A Juried Members Exhibit
Exhibit: May 6 to June 13, 2015
Opening Reception: Saturday, May 9, 2-4PM
The Whistler House Museum of Art is pleased to announce the exhibition Lowell As We See It, A Juried Members Exhibit running through June 13, 2015.
See award winners below.
All Whistler House Museum of Art/Lowell Art Association artist members were invited to submit artworks inspired by the city of Lowell for this exhibition. Rich in industrial history, culture, and historical sites, Lowell provided artists with ample material from which to conceive a variety of paintings, photographs, sculptures, drawings, and mixed media artworks. Nearly one hundred Lowell-themed pieces of art will be on view for the duration of the exhibit. Selections were made by jurors Patrick McCay, Senior Faculty Fellow, Chairperson of Fine Arts at New Hampshire Institute of Art and Martha Mayo, Head, Center for Lowell History at University of Massachusetts Lowell.
Patrick McCay completed undergraduate and graduate studies in Fine Arts at the Glasgow School of Art, Scotland, U.K. and holds a second MFA from the University of Notre Dame. He is a nationally and internationally known academic and artist with a collective exhibition record of more than 30 exhibitions. McCay has exhibited works at London's Royal Academy, the Edinburgh International Festival, the Royal Glasgow Institute of Fine Arts, and the American International School in Middlesex, U.K., among others. His work is included in the private and public collections such as those of Her Royal Highness Princess Margaret, the Royal Bank of Scotland, Zurich RE Insurance Co., Glasgow School of Art, and Georgia Council for the Arts. McCay is presently represented in the U.S. by Millbrook Gallery in Concord, NH and Chace-Randall Gallery in Andes, NY. For more info on Patrick visit:  patrickmccay.com or nhia.edu.
Martha Mayo serves as Head of the University of Massachusetts Lowell, Center for Lowell History. Established in 1971, the Center for Lowell History assures the safekeeping and preservation of research materials available for study in unique subject areas, particularly those related to the Greater Lowell Area and the University of Massachusetts Lowell. Located downtown in the Patrick J. Mogan Cultural Center at 40 French Street, the Center is committed to the design and implementation of historical, educational, and cultural programs that link the University and the community in developing an economically strong and multi-culturally rich region. Martha is passionate about history and the arts and serves on several local boards, including Arts League of Lowell, City of Lowell Historic Board, Cultural Organization of Lowell (COOL), Friends of Merrimack Repertory Theater, Lowell Heritage Partnership, and Lowell Historical Society.  Visit the Center for Lowell History online.
Artists participating in this exhibition include Jennifer Aradhya, Michele Boll Mackenzie, Supriya Chakrabarti, George Chen, Michael delaVega, Linda Demers, Dave Drinon, Art Ferrier, Meredith Fife-Day, Claire Gagnon, Vassilios Giavis, Sarah Goor, Tom Gill, Deirdre Grunwald, Gayle C. Heney, Jack Holmes, Arelys Jimenez, David R. Jones, Barry Jordan, Marguerite Jungbluth, Paul Kerepka, Kippi Kostoulakos, Janet Lambert Moore, Nita Leger Casey, Helene LeVasseur, Marshall Marice, Daniel Mathieu, Cynthia Morgan, Gopika Narula, Ruth T. Naylor, Barbara Nolan, Mary Rose O'Connell, Don Ouellette, Sandra J. Peters, Denise Rainis, Bill Reedy, Coleman Rogers, Emily Sevigny, Laurie Simko, Pamela Simpkins, Don Sullivan, Margo Mam Thach, Robert Thurlow, Gay Tracy, Samantha Tucker, Bill Tyers, Michael Vieira, Denise Warren, Janet Wolahan, and Nancy Wormwood.
Image: Helene LeVasseur, The Olde Worthen, oil
Award Winners
Three prizes and one honorable mention were awarded.  Congratulations to the winners and to all the artists who were accepted into this juried members show.

Whistler Award
Nighttime at Western Ave.
Laurie Simko
16 x 20", oil on canvas
Hibbard Award
Abstract Merrimack River/Falls
Arelys Jimenez
24 x 24", acrylic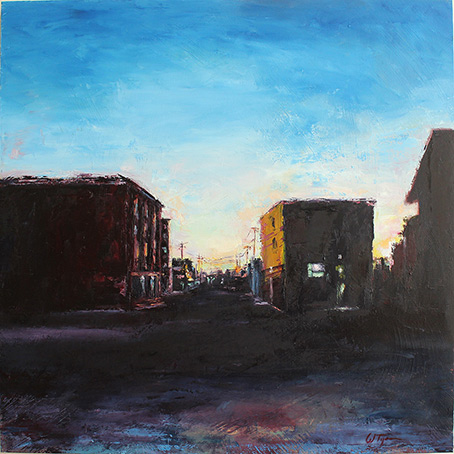 Benson Award
Westford Street
Bill Tyers
25 x 25", oil
Honorable Mention
Merrimack Street
Daniel Mathieu
18 x 18", photograph
View prospectus here.
Artist Pick-up Dates: June 17 & 18, 2015