Magdalene Stathas
Born and raised in Massachusetts, Magdalene Stathas was awestruck visiting the Whistler House Museum of Art as a child. During her elementary school's art program, Magdalene found herself frequently painting alongside stunning works of art at the Museum while growing up. Now as the Whistler House's current Artist-in-Resident, Magdalene Stathas's skill rivals the artists hanging on the 200-year-old walls.
Appreciating classical art awakened a deep longing in Magdalene to utilize her own artistic gifts, connecting the world's intrinsic beauty to people around her. Through contemporary forms infused with knowledge of traditional art, she captures fleeting light and ethereal beauty, evoking feelings of peace we have all experienced while amazed by the gorgeous simplicity of nature. She credits her love of creating to her great-grandfather, who left behind his life in Egypt due to persecution; in Crete, Greece, he attracted art lovers from around the world with his paintings and charming character.
Dedicating her life towards inspiring others, Magdalene holds degrees in Psychology, Fine Art, and French from UMASS Lowell, where she received the Bernard Restuccia Award of Excellence in Painting and the UMass Department of Psychology Excellence Award. During her undergraduate studies, she served as a mentor for young men on the autism spectrum. In 2019, she received the honor of Emerging Scholar for her contributions as a research assistant for Save Venice Inc. Founded in Boston, the organization has raised over 30 million dollars and restored over 450 works of Venetian art and architecture. Following graduation, Magdalene served as a Fine Arts educator for two years, overseeing the development of six hundred students and creating two new curricula for the arts.
A deep love for classical art has always been at the center of her professional pursuits. Over the years, this passion led her backpacking throughout Europe and compelled her to move to Italy, where she became a classical art atelier under the instruction of renowned master painter Maestro Michael John Angel. After a prolific year of studying classical drawing and anatomy in Florence, Magdalene became a teaching assistant to Maestro Angel in an international William-Adolphe Bouguereau workshop for classical impasto and glazing.



Classical Art Figure Drawing Study, Florence, Italy
Graphite on paper
20" x 24"
Italian Girl Drawing Water, après Bouguereau
Oil on linen
24" x 32"
Classical Art Bargue Study, Florence, Italy
Graphite on paper
20.5" x 16.5"
Living in Massachusetts once again, Magdalene has returned to the Whistler House Museum of Art which inspired her as a child, now honored to serve as the Artist-in-Resident. She can often be found working in the museum's third floor studio, where she loves meeting and connecting with visitors and international artists. Currently fluctuating between human and animal portraits as well as miniature landscapes, she is working on a large-scale narrative showcasing themes of love, childhood simplicity, compassion, repentance, and humanity. Magdalene believes "joy is loving others more than yourself; art is a gift we should share to evoke the simplicity of beauty and peace with others."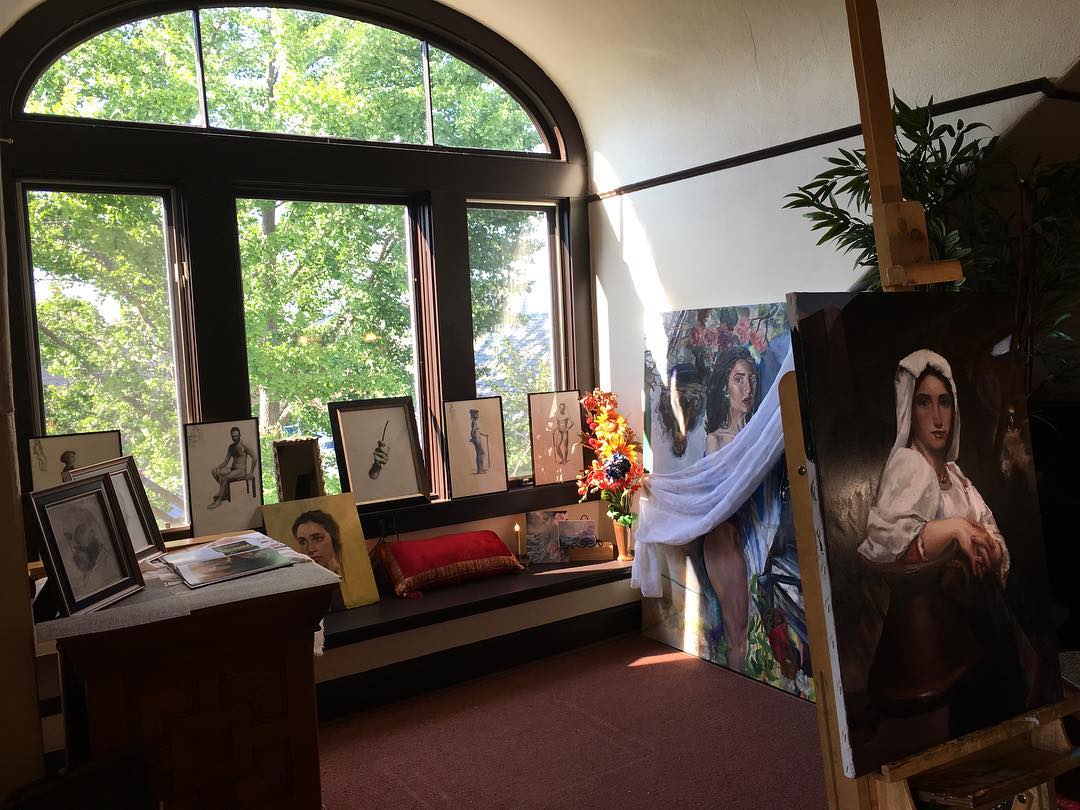 Magdalene's Work Space on the third floor of the Whistler House
The WHMA exhibited Magdalene's Self-Portrait in the Fall Juried Members Exhibition in 2018.
Mama's Boy
photographed in front of Davenport's "Arrangement in Grey
and Black No. 1, après Whistler"
Oil on panel
15" x 19" (framed)
---
Commission a Painting for You or a Loved one!
If you are interested in commissioning a portrait, landscape, animal portrait, or classical art reproduction,
please contact Magdalene Stathas at the Whistler House Museum of Art.