Tom Gill, Motif #1 Harbor, 30 x 24 in., Acrylic. 
Exhibition: April 20th to July 20th, 2019
Opening Reception: Saturday, April 20th, 2019, 2 - 4 PM
This spring, it is with great pleasure that the Whistler House Museum of Art (WHMA) in collaboration with the historic Rockport Art Association and Museum (RAA&M), is showcasing the impressive and diverse body of work by the Rockport Juried Artist Members. The show will run from April 20th, 2019 to July 20th, 2019. An opening reception will be held on Saturday, April 20th from 2 - 4 PM in the Parker Gallery.
Since 1921, the RAA&M has been a gathering place of New England artists, including Aldro Hibbard, who founded the organization, and whose exquisite works are a prominent part of the WHMA's historic collection. With long and distinguished histories, the two organizations welcome thousands of visitors from all over the world with the promotion of year-round programs and exhibitions. 
 T.M. Nicholas, Morning Shadows, Maine, 18 x 18 in, Oil               Ken Knowles, View from Georgetown, ME, 24 x 30 in, Oil                           Mary Rose O'Connell, Bearskin Neck, 6 x 8 in, Oil on Linen
The WHMA and the RAA&M are dedicated to making fine art appreciation accessible to all. This show aims to do just that, highlighting the work of Rockport's select group of Juried Artist Members for everyone to experience. It is a truly stunning representation of the vision, skill, and originality New England artists have always offered the art loving public.
"Ever since the exquisite Aldro Hibbard Retrospective in the fall of 2012 in Rockport, the Whistler House Museum of Art has wanted to present a partnership with the Rockport Juried Artist Members. Our participation in that show, as a lender, was a most memorable one since our two organizations have been long time admirers of the incomparable Hibbard...his talent, personality and work," says Sara Bogosian, President and Executive Director of the Whistler House Museum of Art. "As an art association, it has always been my goal and desire to promote artists of all styles and mediums, throughout New England and beyond, and the Rockport Art Association is a perfect example of what talent this region has to offer."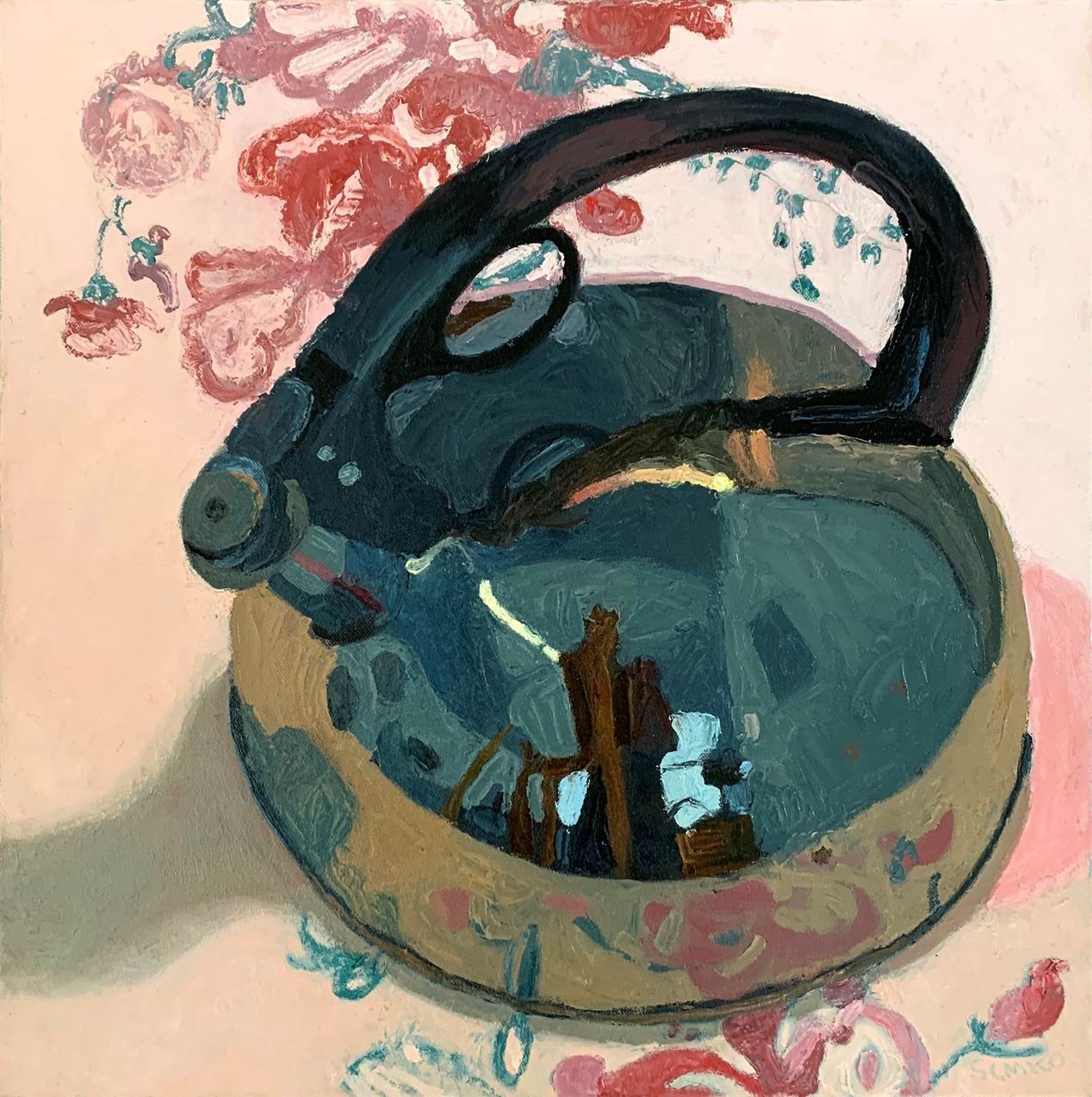 Lynne B. Mehlman, Joyous Reflections, 8 x 10 in, Oil               Laurie Simko, Self-Portrait in a Tea Kettle, 20 x 20 in, Oil on Canvas