Whistler Holiday Art Auction and Party
Friday, December 1, 2017 starting at 6:30 pm
The Whistler House to Celebrate the Holidays
with Art Auction & Party

In what is their biggest fundraising event of the year, the Whistler House Museum of Art will host their annual Whistler Holiday Party on Friday, December 1 starting at 6:30 p.m. The festivities will be held at the historic house on 243 Worthen Street in Lowell.
"Each year, the holiday party is a fun-filled fundraising event, and we're grateful to our sponsors, artists, and to the many volunteers who make this event a success," said Sara Bogosian, president of the Whistler House Museum of Art. "This is one of our most anticipated events of the year, featuring a live art auction, silent auction, open bar, dinner and live entertainment."
The live art auction will be led once again by "auctioneer extraordinaire" State Representative Tom Golden Jr., and will feature beautiful original works of art from local artists. The evening will also include the return of the ever popular Trinity Triple Treat Raffle, for which club seat tickets to Bruins, Red Sox and Celtics games will be given away. Silent auction items include artwork, designer handbags, jewelry, children's toys, vineyard tours, and horseback riding lessons. There will be live music and entertainment.
Ticket prices are $95 for non-members and $85 for members. Proceeds from the event will help fund children's art programs, continued restoration of the historic house, and operating expenses. All are welcome.
For additional information or to make a reservation, contact Rae Easter at 978-452-7641 or
This email address is being protected from spambots. You need JavaScript enabled to view it.
.
Pay for your ticket via PayPal or Debit/Credit:
Exhibition: March 16 - April 29, 2016
Reception: Saturday March 19 from 2 to 4 pm
Peace of the Sea presents a collection of pastels, oils, and mixed media paintings that reflect artist Pamela Wamala's mission to foster peace. Through her images she helps people feel inner harmony when viewing her works of art. Wamala says, "The paintings in Peace of the Sea...capture moments of time at the shore. Like so many others, I am drawn to the seaside. There is majesty and magic in the light, beauty, and rhythm that exists at the sea and salt marshes."
Ms. Wamala began painting at the age of 5 with her grandfather, and says that she is an artist and teacher as a result of his influence. She holds a BFA in Drawing & Painting from the University of Massachusetts Lowell. She is a studio artist at The Brush Art Gallery & Studios in Lowell, MA, and is a member of the Lowell Art Association, Inc. Her work can be found in professional and corporate collections in the U.S. and abroad.



Download the press release for Peace of the Sea.


Press coverage:
Pamela Wamala's seaside serenity at WHMA: Lowell Sun, March 10, 2016
Wamala at Whistler: Artscope Magazine, March/April 2016
Image: Pamela Wamala, Breeze at the Marsh, pastel, 23" x 29".
Click the image for a high-resolution version suitable for print.
Exhibition: May 11 - June 18, 2016
Reception: Saturday May 14 from 2 to 4pm
Artists have been including animals in their works of art for centuries. James Mc Neill Whistler had his peacock room and an array of butterfly signatures. William Phelps included cows and sheep in his pastoral scenes. For Arthur Spear, it was sea creatures that graced his canvases. The Whistler House invites you to experience the exciting, wild world of Kingdom Animalia as envisioned by members of the Lowell Art Association, Inc.
View the press release for Kingdom Animalia.

Press coverage:
Finding beauty in fur and feathers: Whistler House's 'Kingdom Animalia' tames our passion for pets - Lowell Sun, 5/12/16

Image: Being Shy, Valerie Borgal, watercolor.
Click the image for a high-resolution version suitable for print.
---
Exhibition: June 24 - July 25, 2015
Reception: Saturday, June 27, 2-4PM
Lydia Martin: Lotería II
Parker Gallery
Contemporary realist artist, Lydia Martin, has created a new series of oil paintings inspired by the traditional images associated with the popular Mexican game Lotería, a version of Bingo, which utilizes pictorial cards instead of letters and numbers. Using the game's stock images as her focus, the artist works across genres - such as the figure ("La Sirena," "El Musico," "La Bota"), interior ("El Sol"), and still life ("La Estrella," "La Maceta," "El Diablito") to offer fresh interpretations of the concepts that stand behind the game's rich folkloric history.
Awarded a 2013 Whiting Foundation Fellowship to study in Paris, France, the artist's works have been included in juried and invitational gallery and museum exhibitions across the country, receiving awards in oil painting and pastel.
Recognized by the Art Career Project as one of the "15 Notable Art Professors in Boston," she teaches classes in drawing and painting at Suffolk University. Internationally, her works have been included in private and public collections in Italy and the Netherlands.
Ms. Martin attended the Pennsylvania Academy of Fine Arts and the Massachusetts College of Art. www.lydiamartinstudio.com.
Image: Lydia Martin, Lotería, oil on Belgian linen, 40x30". Click here for a high resolution image.
The Light in Small Towns: Priscilla Levesque
Members Room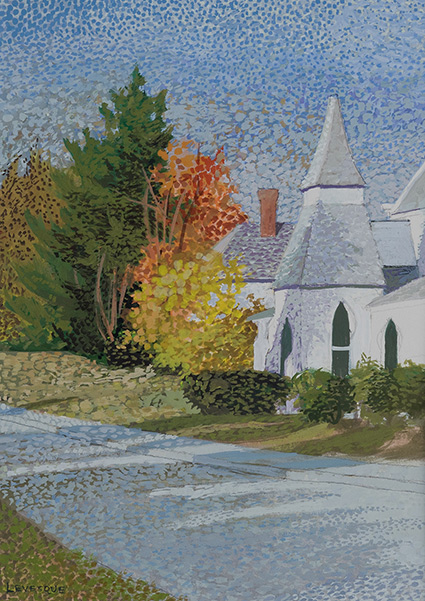 Taking inspiration from 19th century landscape artists such as Pissaro, Seurat, Signac and Luce, Priscilla Levesque employs pointillist techniques in creating the optical positioning of a number of small colored dots which, when viewed at a distance, appear to merge into one color.
Levesque is represented in several New England Galleries and collections and is affiliated with the Concord Art Association, the Falmouth Artists Guild, the Provincetown Art Association and the Whistler House Museum of Art.
Image: Priscilla Levesque, Central Baptist Church, casein, 7.5 x 10.25". Click here for a high resolution image.
This exhibition is sponsored in part by: